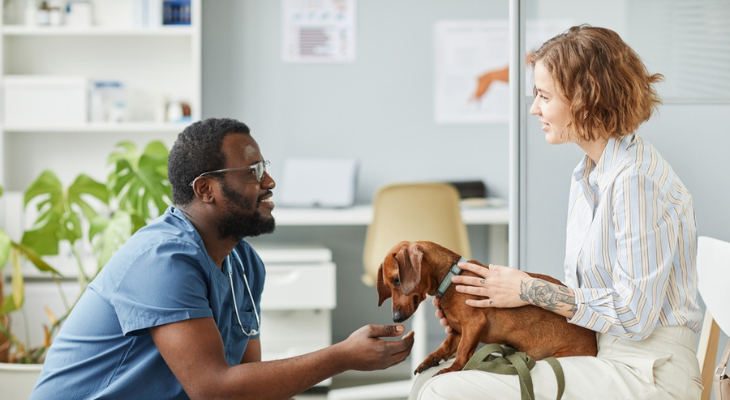 7 Ways to Make Your Pet's Next Visit to the Veterinarian Less Stressful
Just like you, your pet may find visits to the doctor stressful. If your normally calm, friendly pet becomes a quivering, snarling ball of fur at veterinary visits, you may be wondering what you can do to make appointments more pleasant for both of you. Following a few of these tips will help your pet feel more comfortable during trips to the veterinarian.
Pay a Social Call to the Veterinarian
Visiting the veterinarian just to say hello can show your pet that the veterinary office isn't such a scary place. A social visit helps your pet feel more at home in the office, particularly if the friendly staff offers a treat or two. if you think your pet could benefit from occasional social calls, ask the veterinary staff when it will be convenient to stop by.
Positive experiences are particularly important during your puppy or kitten's first experience at the veterinary office. According to a study published in Veterinary Sciences, puppies that were fearful during an initial visit were more likely to experience fear as adults.
Go for Joyrides
If your pet only rides in the car for veterinary visits, it may become stressed the minute it enters your vehicle. Taking your dog along for trips to the pet store, visits with dog-loving friends and family members, or excursions to the dog park decreases negative associations with cars and trucks.
Chill in the Car
Does your dog or cat become fearful or stressed when you walk through the doors of the veterinary office? Your pet may be overwhelmed by the unfamiliar sights and smells of the office.
Spending time in the waiting room with other animals can also be upsetting for some pets. If your dog or cat finds the waiting room stressful, ask if it's okay to wait in the car instead. The office can call or text you when it's time for your furry friend's appointment.
Offer Treats
Treats make everything better, including veterinary visits. Bring your pet's favorite snacks, and offer them periodically throughout the visit. Give a few treats to the veterinarian and veterinary techs to pass out too.
The American Animal Hospital Association advises that your pet will be more interested in treats if it's a little hungry during the visit. If the appointment will be close to your pet's usual meal time, don't feed your pet or offer much less food than usual.
Play Doctor
Does your pet object to all the poking and prodding that happens during a checkup? You can help your pet feel more comfortable with the examination process by mimicking your veterinarian's actions at home.
Run your hands over your pet's body, take a look in its ears and mouth, and gently press on its abdomen. Offering treats or toys after each of these mini exams will help convince your dog or cat that exams aren't so frightening after all.
Make Your Cat's Carrier Part of Your Decor
At the first sight of a carrier, many cats head for their favorite hiding places. Fortunately, you can change your pet's opinion by finding a special spot in your home for the carrier.
Create a haven for your cat by furnish the carrier with a soft blanket and a few toys. Keep the door open to make it easier for your pet to come and go throughout the day. When you're ready to travel to the veterinary office, it will be much easier to convince your cat to step inside the carrier.
Use Calming Devices
Body wraps or Thunder Shirts may help both cats and dogs feel less afraid during visits. Similar to weighted blankets for people, the devices apply gentle pressure that makes pets feel calmer or more secure.
Spraying your cat's carrier with Feliway before a veterinary appointment may make visits less stressful. Feliway contain pheromones, the same type of calming substances mother cats use to help their kittens relax. A few sprays of Feliway can help calm cats of all ages.
Does your pet struggle with veterinary visits? Let us know when you make your pet's next appointment. We can recommend a few helpful suggestions that will make your furry friend's appointment much more pleasant.
Sources:
American Animal Hospital Association: How Can My Pet Have Stress-Free Veterinary Visits?
NCBI: Veterinary Sciences: Mimimising Stress for Patients in the Veterinary Hospital: Why It's Important and What Can Be Done About It, 6/2017
Whole Dog Journal: Taking Steps to Making Vet Visits Less Stressful for Your Pet
American Kennel Club: How to Make Vet Visits (Almost) Stress-Free for Your Dog, 6/23/2021