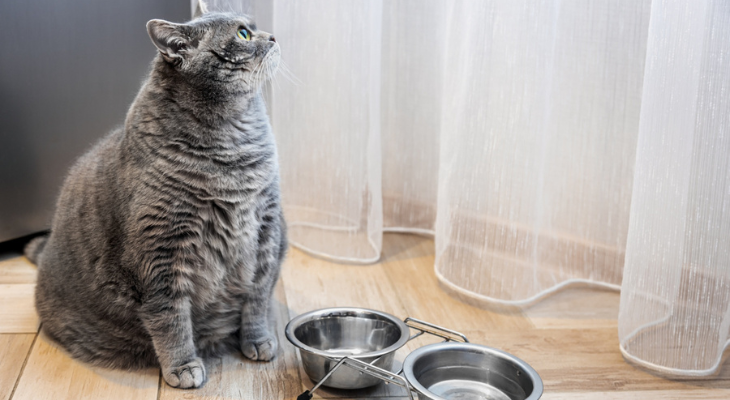 How to Keep Your Cat at a Healthy Weight
Overweight or obese cats are at risk for a variety of health problems that could end their lives prematurely. Gaining even a few pounds could increase your pet's chances of developing conditions ranging from arthritis to heart disease and diabetes. Following these tips will help your furry friend maintain a healthy weight.
Start with a Visit to the Veterinarian
Since some health problems can cause weight gain or loss in cats, it's a good idea to schedule an appointment with your pet's veterinarian if you're concerned about your favorite feline's weight. Your pet's veterinarian will check your pet for diseases or conditions that could make your pet too thin or too heavy.
For example, hypothyroidism (underactive thyroid) can cause your pet to gain weight while hyperthyroidism (overactive thyroid) often leads to weight loss. An increase or decrease in weight could also be due to intestinal parasites or a tumor. Although weight gain is often due to simply eating too much, it's important to rule out health causes if your cat has gained a few pounds.
The average weight for a healthy cat varies from 7 to 12 pounds, according to Cummings Veterinary Medical Center at Tufts University. While a cat with a large frame could be perfectly healthy at 13 pounds, the same weight could cause problems for a pet with a smaller frame.
Read the Labels on Cat Food
Cat food is formulated to meet your pet's nutritional needs at every stage in its life. Unfortunately, the high-calorie food your cat ate as a kitten could cause weight gain once your pet becomes an adult. The same thing can happen if you feed your senior cat food intended for adult cats. Reading age recommendations on pet food labels will help you ensure that the food is the best choice for your pet.
It's also important to look at the ingredients on the label. The healthiest foods list a protein source, like chicken, beef, liver, or fish among the first four or five ingredients. Lower-quality foods usually rely heavily on fillers, like ground corn, beet pulp, or poultry-byproduct meal, and may contain lower amounts of meat or other protein sources. Although your pet may like the taste of these foods, eating them every day could lead to weight gain.
Overweight cats are at increased risk for several diseases, including:
Diabetes
Cancer
Skin Conditions
Arthritis
Heart Disease
High Blood Pressure
Kidney Disease
Urinary Tract Issues
Make Portion Control a Priority
Do you throw handfuls of dry food in your pet's dish throughout the day or serve an entire can of wet food at mealtime? You may be feeding your pet more than the recommended portion. Check the feeding recommendations on the back of the box or can to determine just how much your pet should eat.
Use a measuring cup rather than relying on estimates when dishing out your pet's food. Keep in mind that kittens need to be fed two to three times per day, while older cats are usually fed one to two times per day.
Treats count toward your pet's daily caloric intake, too. According to Petfinder, cats should eat no more than 30 calories a day in treats. If you need to reduce your cat's treat or food intake, don't forget to let your entire family know. When everyone understands how much your pet should eat, it's much easier to maintain its weight.
Schedule Kitty Playtime
Just like people, cats that are active are less likely to be overweight. Take advantage of your pet's natural drives with games and activities that involve chasing an object. Move a laser pointer over the floor, dangle a toy from a kitty fishing rod, or play fetch or hide and seek with your cat.
Your furry friend may also enjoy chasing a battery-operated mouse or batting at a spinning toy purchased from a pet supply company. Manufacturers offer plenty of intriguing toys for cats, although homemade toys and games are just as good as expensive products if they keep your pet active and engaged.
Are you concerned about your pet's weight? Contact our office to schedule a visit for your furry friend.
Sources:
Cummings Veterinary Medical Center at Tufts University: Think You Have a Fat Cat? The Ten Things You Need to Know, 5/17/2016
https://vetnutrition.tufts.edu/2016/05/think-you-have-a-fat-cat-the-ten-things-you-need-to-know/
Petfinder: Calories in Pet Treats
https://www.petfinder.com/cats-and-kittens/feeding/food-and-treats/cat-treats-calorie-count/
PetMD: What Is the Weight of an Average Cat, and When Is My Kitty Obese?, 2/9/2023
https://www.petmd.com/cat/general-health/average-weight-cats
Cornell Feline Health Center: How Often Should You Feed Your Cat?
https://www.vet.cornell.edu/departments-centers-and-institutes/cornell-feline-health-center/health-information/feline-health-topics/how-often-should-you-feed-your-cat